---
---
Alta Labs Wifi6
<Enjoy FREE Shipping on orders above $250!>
AP6-PRO

The Alta Labs AP6-PRO Access Point features a compact form factor and a sleek aesthetic design allowing seamless integration into corporate, commercial, and residential environments. The AP is powered over Ethernet for simple, clean installation. Versatile mounting hardware is included featuring our proprietary QuickMount™ technology for quick, simple mounting.
Features:
• Superior Range and Performance
• Scalable Cloud-Based Management
• Mobile App
• High Performance WiFi 6
• Multi-Password Authentication
• DPI Engine
• Hotspot Functionality
• On-The-Fly Changes and Scanning
• Wireless Network Color Coding
• SSID Broadcasting Flexibility
• Customizable Dashboard
• Status Snapshots
• Device Cards
WiFi 6 With WiFi 7 Benefits: Built on an innovative new dual-band, 6 stream, WiFi 6 networking platform from Qualcomm®, the AP6-Pro incorporates 4096 QAM, a primary feature of WiFi 7, providing a combined 6.3 Gbps of WiFi capacity.
Superior Range and Performance: Our proprietary antenna design provides superior range and performance. The AP6-Pro features four 5 GHz antennas, a design that helps the AP6‑Pro outperform 2x2 APs by an over 30% throughput increase in many cases.
IP54 Rated: The AP6-Pro is IP54 rated, offering strong protection against solids such as dust in a commercial environment, and a limited level of water spray resistance.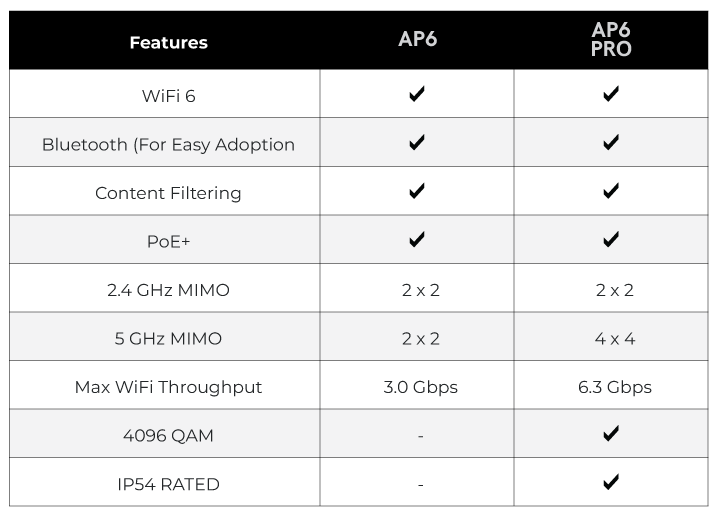 ---